Wearing Red High Heels
Most women love the color red and there's nothing surprising about that. The vibrant shade brings out creativity in people and indicates the passion that resides within. It provides a stylish punch that can brighten up any outfit. Just add a splash of the magical color and you have a winner.
So, when it comes to red high heels, you just can't go wrong. With the right outfit idea and a slaying attitude, anyone can make red high heels work for them. So, to help you with this, here are a few outfit ideas that completely go with red shoes.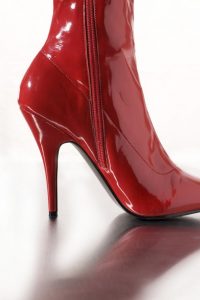 Black Dress
Black is the color of every season and the right way to grab attention with a black dress is to pair it up with red high heels. The classy combo works for cocktail parties, evenings out or even casual outfits. You can make a bold statement with this choice of outfit and look amazing.
A tip! Go for matted red high heels for shiny black dresses, as it adds most pizzazz to the overall look. And you can opt for poppy red high heels when the dress doesn't hold much of the dazzling quality. Any way you wear this glamorous combination, you're sure to see all eyes following you.
White Dress
For all the adventurous people out there, a white dress with red high heels is the statement of the season. White offers sophistication and red adds the passion and creativity the color lacks. There's no need to say that the combination makes for one impactful outfit idea. The contrast might be too bright for some people. If you don't want the startling brightness of the duo, you can easily tone it down. Go for a dull shade of red, preferably burgundy. It will have the same effect and yet not stand out.
Mixed Prints
Be it flowers, butterflies or just some random prints, red high heels go well with colorful outfits. Prints that have a neutral base of black or white pair up with red high heels naturally. As long as the outfit has a splash of red somewhere, you can include red high heels in the picture. Accessorize to match the shoes and you're done with a show-stopping outfit idea. Don't mind if you notice people appraising your look because it's one remarkable look to begin with.
Black and White
Black and white dresses make for one eye popping outfit ideas on their own. But combine them together and you're in for a surprise. Stripes are visually enticing and yet they allow the red high heels to be the defining element of the whole outfit. So, the next time you feel like adding creativity to your outfit, go for this combo.
These outfit ideas will all make red high heels give you the dazzling appearance you want. But you can top it off by getting those high heels customized. With Heel Candy Wraps, add texture and pattern to your high heels and let the magic begin!